One of my dear friends getting married this May has always known what she wanted her first dance to be. For those of you less sure, here's a helping hand with the brainstorming. In no particular order of course…

Dream a Little Dream of Me by Louis Armstrong and Ella Fitzgerald
The same covered by the Mamas & the Papas (Mama Cass had some voice…)
It Had to Be You by Frank Sinatra (also covered so well by Harry Connick Jr. for one of my favorite flicks: When Harry Met Sally).

Moon River by Audrey Hepburn

I Can't Help Falling in Love with You by Elvis (Booted from my personal top choice because my husband refused to slow dance to Elvis.)
The Luckiest by Ben Folds (When my sister got married, I teased her mercilessly about choosing a wedding song that mentions death, but she convinced me that it's the real deal.)
The Best is Yet to Come covered by Stacey Kent
Crazy Love by Van Morrison
When You Say Nothing At All covered by Alison Kraus
What a Difference a Day Makes by Dinah Washington (Interestingly, this song was placed perfectly in the film Run Lola Run.)
Cheek to Cheek by Ella Fitzgerald and Louis Armstrong
In Your Eyes by Peter Gabriel (Just make sure it doesn't make you think that you're dancing with John Cusack.)

Nobody Knows Me by Lyle Lovett (I know, you're wondering what Julie Roberts' ex-husband is doing on the list, but this is a really sweet song.)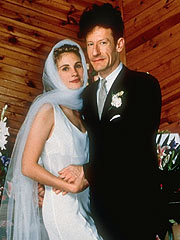 Songbird covered by Eva Cassidy
Feels Like Home by Chantel Kreviazuk
La Vie en Rose by Louis Armstrong
Unforgettable by Nat King Cole
Wonderful Tonight by Eric Clapton
Someone Like You by Van Morrison
The Nearness of You covered by Norah Jones
I'll Be There by Sade
Bless the Broken Road by Rascall Flatts or by/with Carrie Underwood
At Last by Etta James (Great song, but did the Obama's have to dance to the same song at every single ball?)
Everything I Do by Bryan Adams (I put this down only for my mother, who made us listen to this song repeatedly during car rides to and from school.)
Grow Old with Me by John Lennon
Better Together by Jack Johnson
Whatever you choose, have fun with the first dance! It's a special moment, so enjoy it!